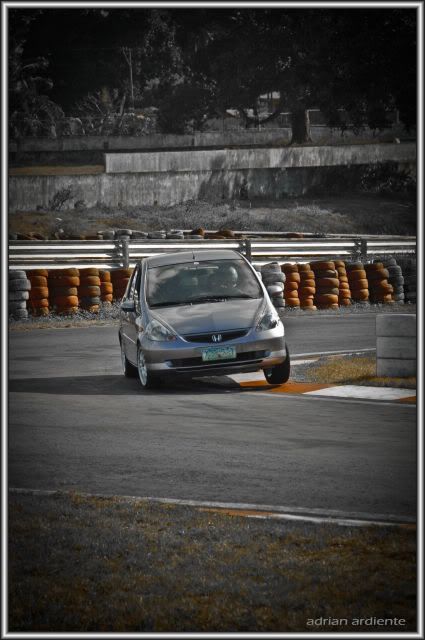 When Edward told me about a trackday event at Batangas Racing Circuit to be sponsored by Cong. Mark Mendoza...I wasn't about to pass it up. Seeing how much costlier BRC's rental fee is compared to Subic International Raceway, I immediately jumped at the chance.
My first exposure to it was in Mel's car, with me and Cliff along for the ride. Mel himself was following our instructor JP Castellano driving one of his students' Civics. JP's first lap was deliberately taken slow so that we could see the correct line through the corners, effectively in slow motion. After that, Mel decided he wanted a crack at the circuit left to his own devices.
I distinctly remember being a little spooked at first. Mel understeered through several corners at first, trying to learn the correct line at speed. The scariest part was the chicane. Understeer through that and you have nowhere to go but the tire wall, which Cliff sadly had a taste of first-hand.
When it was my turn to ride along with my groupmates (experienced from previous trackdays but new to BRC), I didn't fare much better than Mel's first foray either. BRC is loaded with double-apex turns, and I had frustration all morning with the very deceptive R-Bend. All told, I had Mav time me and I got a lap time of 2:28.6. So much room for improvement there.
Later in the afternoon I got tips from my friend Francis Arjonillo and, later on, JP himself while driving Cliff's car Sam, scuffs and all. I was fascinated with spots on the track where one could actually induce understeer to squeeze out a little more exit speed - critical for a low-powered car like Aibo. Momentum maintenance was the key. With their tutelage, I slashed my time down to a personal best of 2:20.8. JP was glad I cut eight seconds just by observation.
The best was yet to come though. Before the end of the day, I bugged JP to drive Aibo. I wanted to see how much more I could improve, and he obliged. With astonishing self-belief, he dove deep into the corners with super-late braking, and screeched Aibo's Toyo Proxes 4s from entry to exit round many a double apex. Such consistency too: all his laps were 2:18s or 2:17s, the best one a brake-fluid-boiling 2:17.21. After JP's stint, the tires and brakes had overheated and the brake pedal went noticeably longer due to bubbling fluid under hard use. Notably though, we shared a very similar line.
I'm very glad I got to sample BRC the way I did. My only regret was I didn't have my own GoPro or ContourHD camcorder to record my laps - I had to rely on Mav's brother Paolo and his cellphone for that. I'm looking forward to more.